Fragrance Landing Hero
Apple Blue Clover
Andean Blue Clover, Apple & Oak Moss
Fragrance Landing Cards 1
ABOUT THE FRAGRANCE
Back and juicier than ever! Bestselling Apple Blue Clover has made a glorious return and is ready to be picked. At sunrise, fresh Clover springs from morning grass while Violet emerges to meet it. Collectively breathing and sighing with spring's freshness; Roses, Lily of the Valley, Cucumber, Jasmine and Melon blossom at once to create an extraordinary bouquet. With Apple Blue Clover, it's a beautiful day.
Shop Now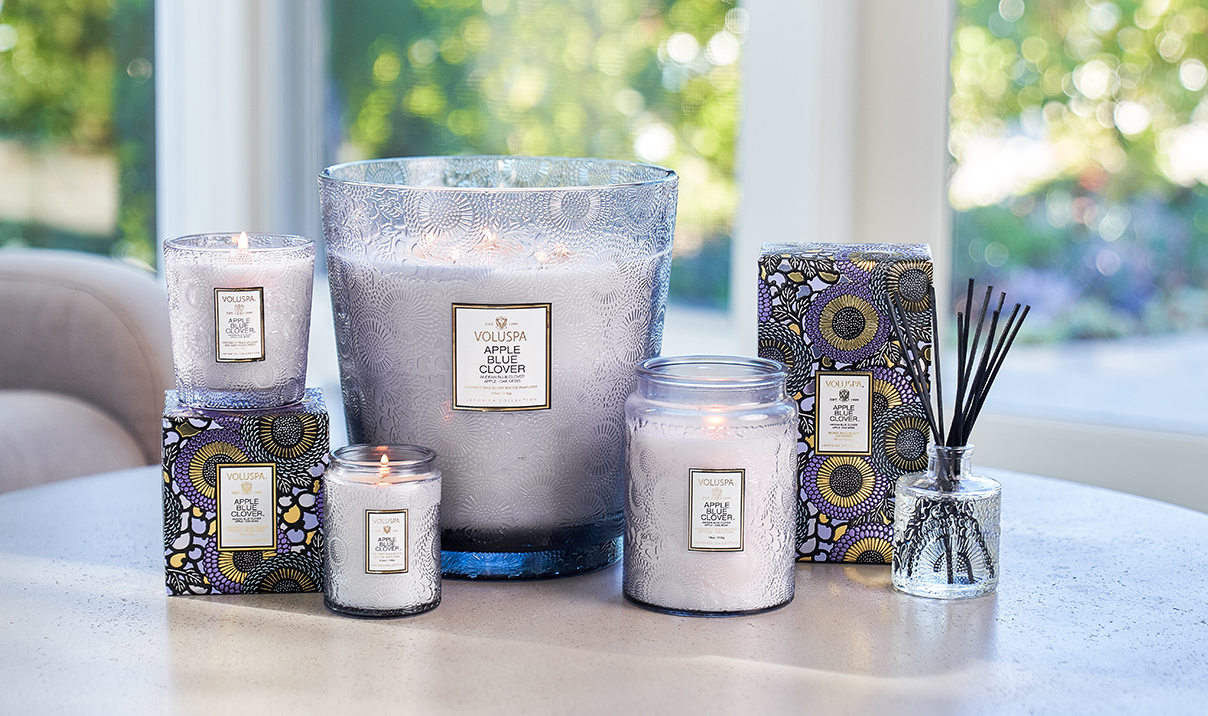 ABOUT THE COLLECTION
Get growing with Apple Blue Clover. Combining the fresh rush of nature with elevated packaging, this scent sits perfectly in the playful and posh Japonica Collection. Invite in the new season with this gorgeous gathering of aquatic notes, and let them refresh spaces with luxe texture and brilliant color.
Shop Now
Fragrance Landing Cards 2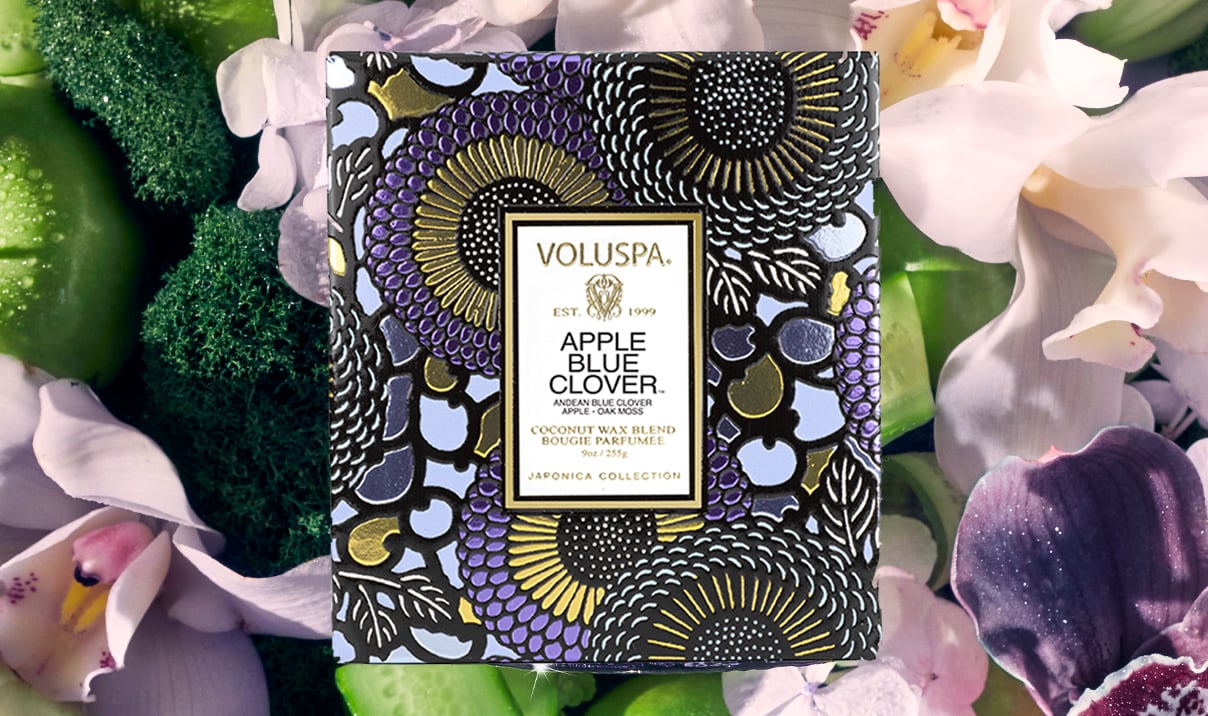 LUXE PACKAGING
Harvested into periwinkle embossed glass, Apple Blue Clover is hand-poured and hand-picked to show off the lightness of the spring season. Wrapped in the iconic Japonica pattern inspired by Japanese Chiyogami Papers, its packaging is luxuriously detailed with metallic gold accents.
Shop Now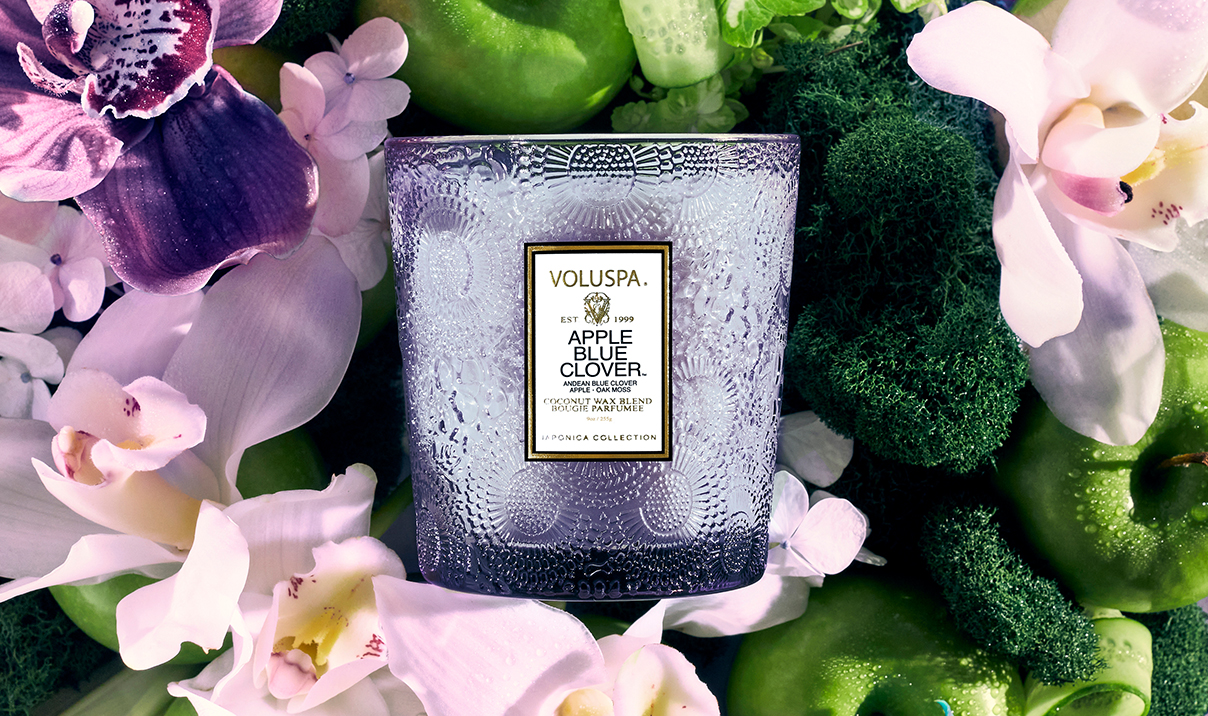 NEW FORMAT
INTRODUCING THE CLASSIC CANDLE
Freshly cut for the season! Experience this NEW addition to the Japonica Collection with the Classic Candle. Featuring 60 hours of burn time, the Classic Candle is wrapped in our iconic Japonica pattern with a sleek tapered edge, packaged in a decorative box with metallic accents. Thoughtfully designed to make a stylish statement in your home or to present as the perfect gift.
Shop Now
Fragrance Landing Product Grid 3
Shop the Fragrance